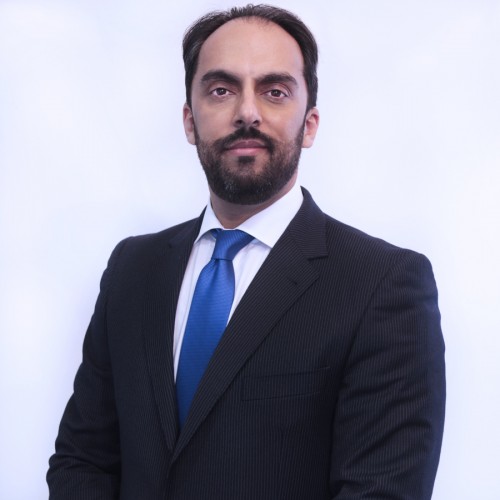 Munesh Melwani
Founder – Managing Partner & CIO.
Cross Capital, a necessary entrepreneur project for the spanish financial system.
Munesh founded Cross Capital in 2013, a well-known investment services firm in Spain, to attend financial advisory needs of individuals, families, private companies and public institutions in Canary Islands.
Innovative character, forged in his experience.
Previously, he developed all his professional career in Wholesale Banking. He started working in Analistas Financieros Internacionales (AFI) in 1996, joining Caja General de Ahorros de Canarias (CajaCanarias) in 1997. His work and performance, upgraded the leading financial entity in the Canary Islands as a relevant player at a national scale, being a reference due to its active role in the financial markets, not only in the investment arena, but also in the financing area through the capital markets. Since the beginning, he assumed an intra-entrepreneur role and led the set up and development of different business divisions, like Treasury and Capital Markets, Corporate Banking and the Holding portfolio, managing with this team more than € 1 bn. in investments and more than € 5 bn in funding, raised from different international markets as Managing Director of Investment Banking. He participated in the design and structuring of diverse corporate deals for private companies and public institutions in Canary Islands during 2000-2010 period. In 2010 he collided the merger with CajaNavarra, deal that would deliver a bigger one, with the creation of Banca Cívica in Madrid after Caja de Burgos and Cajasol joined the project.
Banca Cívica supposed the first merger in Spain between Saving Banks of different regions, achieving the complete integration in only two years, reaching a size of € 80 bn in terms of total assets. In this entity, that would have a short life, Munesh achieved the integration of four different corporate cultures as Managing Director of Markets & Finance (and Deputy CFO), and delivered important incomes improving remarkably the bank's P&L due to several financial transactions, assuming, beside the wholesale banking divisions, also the Private Banking and Asset Management businesses, and colliding successfully the IPO in 2011. In 2012, the bank was acquired by Caixabank.
The investment arena, his natural habitat.
He has a high recognition and impeccable reputation in the financial sector, after more than 22 years of trajectory. On the investment area, he was pioneer applying multi-management scheme since 1999, using third parties' funds for the treasury management of banks and the setup of co-investment vehicles for institutional investors to invest in equities. During several years, he was the chairman of the largest Luxembourg Sicav for spanish investors (Cajas Españolas de Ahorros SICAV – CEDA) of + € 1 bn. AUM. He promoted the design of structured products for private banking clients and also an open architecture of mutual funds using international platforms. He also promoted the investment in syndicated loans, club deals and project finance operations. He has been member of Investment Committees of several domestic private equity funds, focusing in industrial companies, touristic sector and infrastructures. In addition, he has been Board member of different regional and nationwide companies (non-listed), belonging to industrial, financial and services sectors.
He has always defended the long term investment horizon, with a global, flexible and multiassets approach, with a value bias, parameters that define his vision of the financial markets, after being an active witness of different crisis and financial events during the last decades, and having navigated successfully and generated recurrent results with his management.
Expert in capital markets funding and other alternatives sources.
On the financing area, he was the promoter of funding in the international capital markets by the spanish Saving Banks, with an inaugural issue of EMTN's in 2000, subordinated debt, covered bonds, short term commercial-paper, schuldscheins, preferred equity, etc., always focused on institutional investors. Therefore, he dedicated a great part of his career to move around the principal financial cities (Madrid, London, Frankfurt, París, mainly) accompanied by the investment banks, attending One to One meetings, and also Road Shows. He placed successfully debt issues for over € 8bn. during his banker career.
Professor and disseminator of his knowledge.
He is passioned on financial analysis and research, specially dedicated to asset management, and companies and projects valuation. Due to his multidisciplinary character, historically he has taught finance classes at different postgraduate programs in several academic institutions, also conferences, being very active in publishing his knowledge and opinions, through lots of articles in the local press and in specialized magazines of the financial sector. More recently, he contributes actively with his posts at Cross Capital's blog and social media.
His academic background, the best pillar for his trajectory.
Munesh holds B.A. in Economics and Business Administration at the University of La Laguna (ULL) with honours, DEA (Diploma for Advanced Studies) by the ULL and a Master in Banking and Finance by Analistas Financieros Internationales (AFI, Madrid). In addition, he completed an AMP (Advanced Management Program) by the Instituto de Empresa (IE) and holds the EFA Certificate by the European Financial Planning Association (EFPA). He has completed an Executive Program in Digital Business Strategy by the MIT (Massachusetts Institute of Technology).